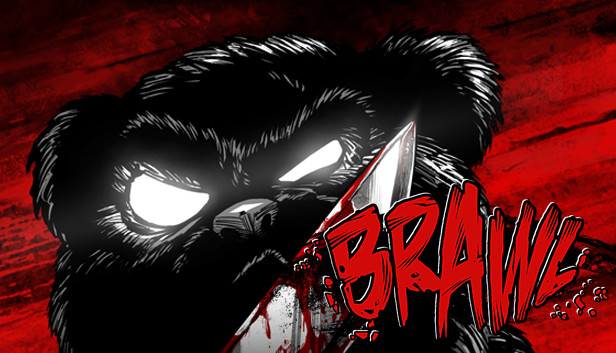 Basement Crawl, which came out years ago, was a terrible game. It may even appear that the creators from the Polish firm Bloober Team did not produce a complete game, but instead delivered an incomplete fragment riddled with mistakes. Brawl is unquestionably a superior game, and it positively surprises in this regard.
At first look, there appears to be no distinction. Gloomy music and dismal colors are still there, but now they are accompanied by a storyline that sets the player in the mysterious Emporium. The Puppeteer, a deranged constructor, drives the heroes to battle each other or hordes of his creatures. Although the game is mostly focused on multiplayer, there is also a brief campaign that serves as a tutorial for all eight colorful characters. A clown, a mannequin, a puppet without legs, a crazy puppeteer, a robber, a mime, a blind youngster, and a wrestler, a type of exceptional personality.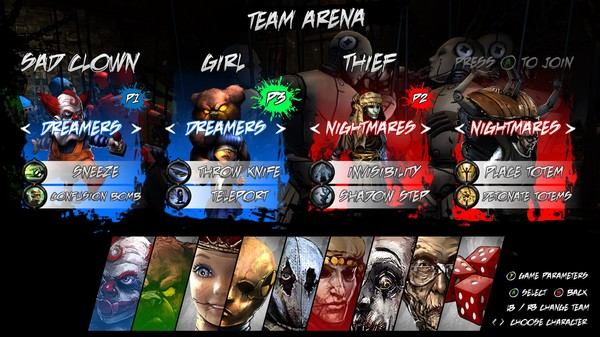 Each hero has his or her own story, which not only sheds light on his or her beginnings, but also draws a picture of the whole Emporium. A tiny blind girl finds herself here after being orphaned in a car accident; she goes around the maze with a knife in her hand and a teddy bear on her back, seeking for a way out. The self-proclaimed queen of mannequins falls into the trap of a puppeteer and is now attempting to escape and overturn the mystery constructor's dominion. The campaign has puzzle and arcade elements. The gameplay is identical to the iconic Bomberman. We go through a closed environment, removing live and inanimate objects along the way with explosives. Each character possesses not just explosives but also unique abilities. A clown sneezes to move things in a straight path, a puppet in a wheelchair can freeze bombs and explode them at any time, and a robber vanishes and dashes across multiple fields to evade danger. Some powers recharge over time, while others need you to collect materials concealed in chests surrounding you.
Mastering each power needs some practice, so the campaign is an excellent opportunity to learn about each character's secrets. A narrator who comments on the player's activities and talks about the warped world of Emporium is always with us. Completing the exploits of all eight characters takes several hours, and the last stages prove exceedingly challenging. Multiplayer mode is available both locally and remotely. Four buddies can compete against each other in a combat to see who can kill the most people. The gameplay is quick and tough. Players put their abilities to good use by cruelly punishing inattention with a powerful smack. The game is enjoyable and addictive as a kind of couch entertainment. However, the entrance barrier is extremely high, so novice gamers may feel a little befuddled. It is difficult to navigate the turmoil without prior instruction, and you are vulnerable to skilled opponents. Another issue is the incomprehensible UI. During a multiplayer session, the intricacies of the fight make it impossible to discern who is truly leading, and the commentator's slogans don't help, yelling out The Butcherer or The Torturer doesn't do anything specific.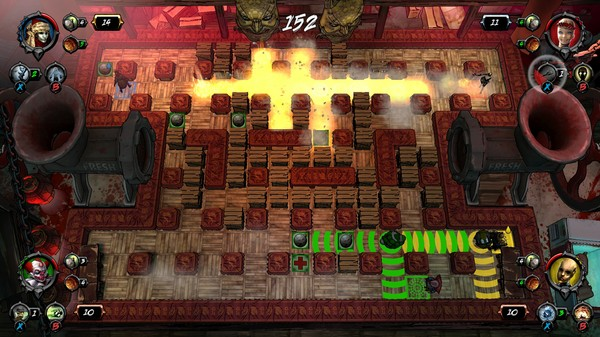 There is a paucity of vocal information, including the round's finish, another player seizing the lead, and similar explanations of the present battle. There are various different games in addition to duel modes with or without character powers, such as the classic Bomberman. In "Sumo" mode, we can force each other out of the arena with repulsive explosions, or try to color the maps the most with paint distributed by blow-up bombs in color dominance mode. Other fun challenges involve safeguarding sheep from computer-controlled creatures and defeating increasingly large waves of foes. Each option provides somewhat different experiences and difficulties. This time, the level design and diversity merit special mention. Each section is dark and unsettling, yet thematically distinct. Sometimes it's a factory, and other times it's a medical ward filled of green sheets. The music adds to the terrifying mood. Errors that occur from time to time, on the other hand, might leave an unfavorable impression. The game can severely diminish animation smoothness and even freeze, causing considerable issues, particularly in multiplayer mode.
The artificial intelligence may freeze, causing the adversary to stay motionless, and a checkpoint loaded after death places us directly in front of the enemy, doing immediate harm to us. Despite the single-player feature, Brawl is clearly or maybe exclusively a game for a large group of players gathered in front of a single TV. After completing the campaign, playing alone is tedious, and playing online – or competing against the computer lacks even a quarter of the pleasure of playing locally. We cannot play Brawl on the console with a toddler, despite the fact that it is a couch game. The figures are scary, there is blood on the walls, and puppets swing like hanging corpses in some areas. True, the developers aim to release an extension that removes blood shortly, but this will not change the game environment, which is not associated with carefree pleasure.
Those who purchased the awful Basment Crawl a year ago may get Brawl for free. A year after that debut, the Krakow studio's developers created a game that may not win the hearts of many gamers, but it is surely not cause for shame.